Conceptualization
We imposed the limit of only a few hours to spend on this and made this a priority of Friday evening. Determined to settle on a concept that had a lot of potential, fit the theme, and provided a level of scope that was doable became our top priority in the dare's first few hours.
Quickly, we began coming up with genre combos that made us laugh or delivered some kind of inspiration. We got stuck on the idea of doing an 80s era text-based RPG around several truly incompatible genres, including sports, replete with cardinal directions based navigation, old-timey names for other characters, and old rpg flavor text that's pseudo formal.
The idea for Modern Fairway was sort of cemented we we discussed how to mix and equal amount of FPS with an equal amount of golf. The best idea came to us when we nailed down the mechanical mix- shoot the golf ball with FPS weapons. Using FPS theming for the menus, sound, and UI assets juxtaposed against the cutesy golf look sold it for us, and we knew the jarring difference between art styles would only raise the impact of the humor.
Framework
Saturday - Begin 6am Terrain Generation FPS Engine Ball + Physics Main Menu Graphics Logo and Button Design Terrain Sculpting
We decided to drop the load out screen as it didn't bring anything meaningful to the actual game.
Sunday - Begin 3am Create win condition Create second environment as level two Trawl internet for free use music and sfx for menus and during gameplay Amass free use low-poly models to populate course with
Monday - Begin 6am Sculpt paths in terrain Populate terrains Lighting UI tweaks Build Credits scene Screencaps + video footage for social media posts Post game Run Dread game as promised like a FOOL
Prioritization
We prioritized anything that served the Ludum Dare theme and/or built on humor. We trimmed or let go of ideas that didn't directly offer payoffs in these two priorities. We specifically made the text and menus as dramatic and over the top as possible so that it would play off the cute, low poly look of the golf courses and in-play music.
In addition to the load out screen concept we had, we also had to trim extending the variety of weapons in the game. A true scoring system also didn't quite make the cut.
Obstacles
Our biggest hurdle by far was distribution of skills paired with the stipulation of not purchasing assets and the absolutely oppressive time crunch. We've differentiated our skills as much as possible but neither of us are artists. We relied on free commercial use assets, models, sound, fonts, and music when we needed. All assets were used with permission.
What Went Right
Our ratings have surpassed our expectation. What we completed during the dare period is not complete, but stands alone well. Social Media/Marketing outreach. No bug-fixes or improvements have been made to the game after submission. Many people have offered well crafted critiques should we push forward with the game Networked with several devs on various social media.
What Went Wrong
Several UI bugs that we did not have time to fix Floating tree/cactus models that we didn't have time to fix Terrain Size Lack to time to familiarize ourselves with FPS games and their typical feel, leading to mouse sensitivity issues.
Final Takeaway and Results
Rankings are up now and we were very pleased with the results: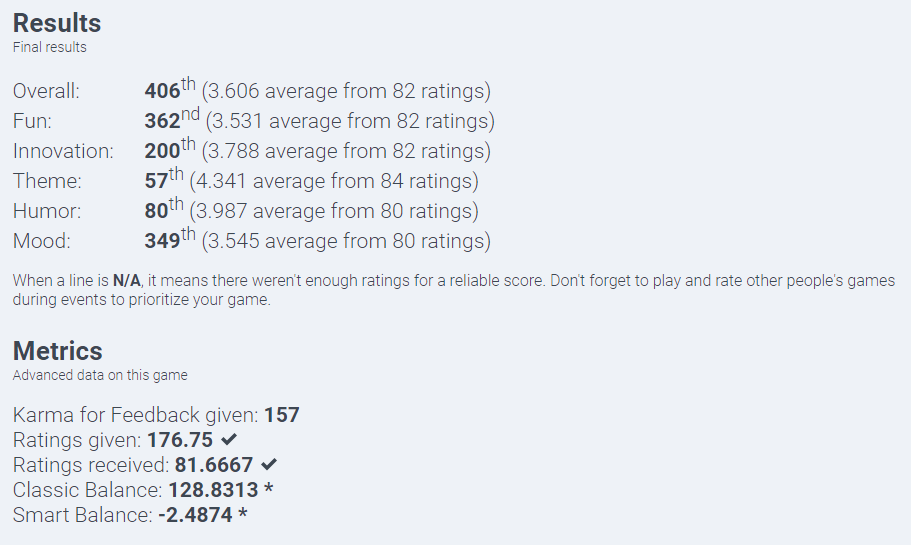 Ludum Dare was definitely challenging but I take some pride in knowing that we were organized and crafted a workable scope that allowed us to finish a salient product within the time limit with limited resources. Even though we are still before the official judging period, we're happily surprised by the response we've been getting and the connections we've forged during the rating phase.
If we decide to do another Ludum Dare- which is probably likely, though maybe not the next one- we'll likely try to implement the same mode of attack, so to speak. Conceptualization was highly satisfying as was submitting a mostly finished product.
We want to leave Ludum Dare #41 with a shout out to all the cool people we've met here, who've carefully critiqued and commented on our game and whose game's we commented on. Ludum Dare #41 hinges heavily on its community and it was a really great experience working with and connecting with all you designer/devs. As always, hit us up on twitter –> @SoftDutch and see you next jam!
Get Modern Fairway 4: Spec Ops in the Rough