The Wyrd of Stromgard
Our experience marketing the Kickstarter
---
This was our first time really trying marketing. I spent hours listening to podcasts and reading blog posts/articles about advertising. I tried to find as much as I could from other Kickstarter creators. Hopefully our experience will help you as much as theirs helped me.

Paid Advertising
We advertised with Reddit because of the way it lets you target specific subreddits. We advertised with Google Adwords and Facebook because they are supposedly very effective and we had some free credits to use. We did some more targeted advertising with RPGNow (part of DriveThruRpg) and a much smaller blog (Roleplayers Chronicle) because they were affordable and had more targeted ads. We also tried paying someone on Fiverr to advertise for us through Facebook- this was something I didn't trust but a Kickstarter creator with a very successful boardgame suggested it, claiming it worked very well for them. Here's the result:
| | | | | | |
| --- | --- | --- | --- | --- | --- |
| Advertiser | Cost | Sales | Profit | ROI | Page hits |
| Reddit | $59.15 | 7 | ~$75 | .26 | 123 |
| Google | $25.54 (+ $100 free) | - | - | - | 293 |
| Facebook | $5 (+ $15 free) | - | - | - | 374 |
| RPG Now | $29.95 | 3 | ~$62 | 1.06 | 63 |
| Fiverr | $78.75 | - | - | - | 22 |
I had to leave Roleplayers Chronicle off the list because I set them up first and did not realize I could make referral links in Kickstarter... As such, I have no way to know how many sales they generated. My Google analytics does show that the $14 for a full month of advertising did get me 3 page views.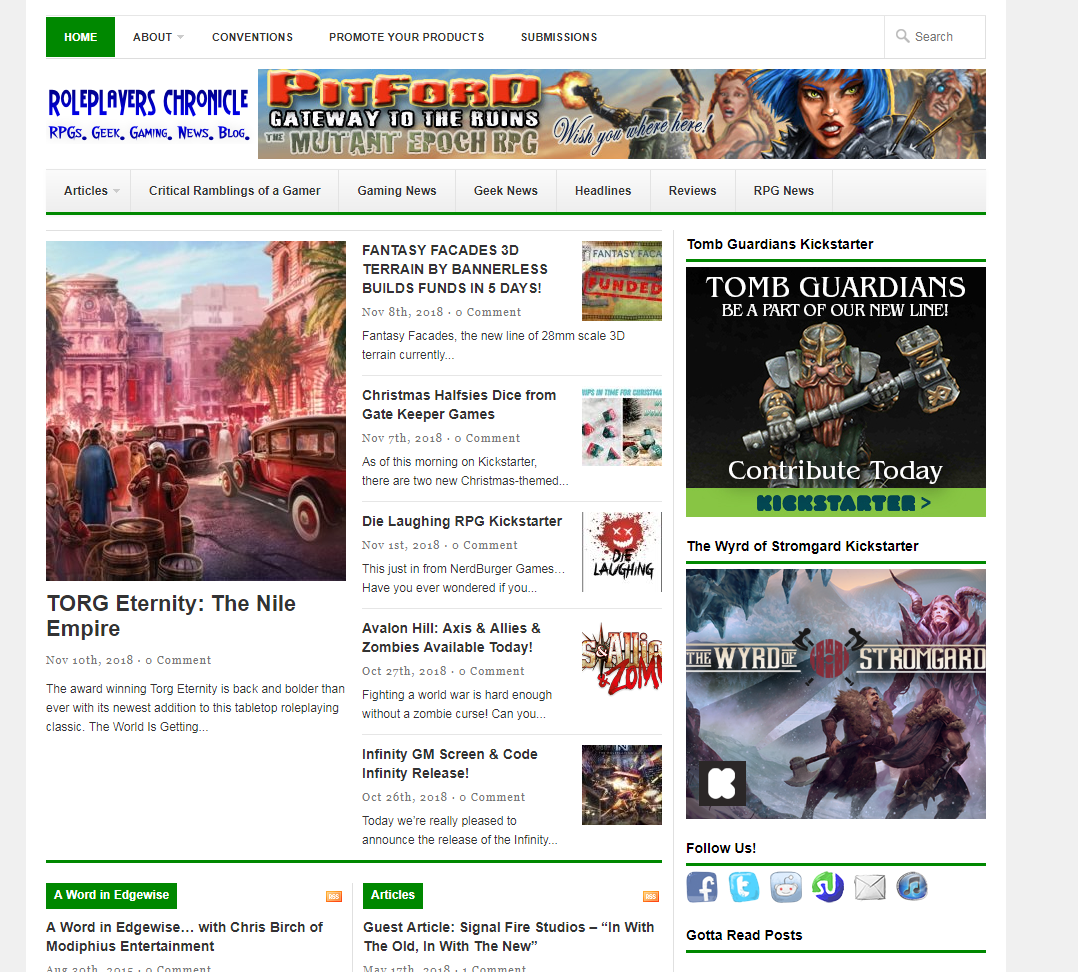 The Fiverr 'facebook ads guru' was the worst decision. I picked a seller that has great reviews, almost 50 separate ratings and averaging 4.8 stars with reviews like "REDACTED is incredible! He is able to provide real backers and a significant ROI! I'll be working with him again in the future!" I was sent a picture of the ad layout as proof of him actually running the ad. I can see that I did get 22 page hits so he may have really run an ad for a while. With $20 on my own Facebook account and no experience, I got 374 page hits though so obviously his ad was not worth it. Worse still, we did get 2 backers at unexpected levels (one for the $80 4 book tier and one for the $100 Name an NPC tier). Both had private accounts and had never backed anything before. This was suspicious and as I expected, both dropped out of the campaign in the final week. I may be paranoid but I think this particular 'ad guru' does this to fool people into good reviews. If those 2 sales had been real, his advertising would have had the best ROI even despite having so little traffic. His only negative feedback corroborates my experience:
"Seller is a scam! He created 2 fake pledges (confirmed) on my campaign and sent a photoshopped Facebook ad screenshot when I requested proof, after 3 days. The number of views and the actual amount he "paid" are impossible, and my tracking shows ZERO TRAFFIC from Facebook. All direct traffic... If you want to throw away your $, hire him."
Facebook and Google's results don't really surprise me. For the first 2 days, Google was advertising to people searching for 'Kickstarter Shipping Estimate'. It took a bit of cajoling to get Google to show my ad to people searching better query terms like 'viking rpg' or 'dungeon world'. We had a video ad on Facebook and it did get a lot of views but I doubt that it was very well targeted as their ad platform was more interested in where I was physically located than what I was selling. I feel like both of these platforms are not great for targeted advertising so unless your budget is big it's probably better to look for more tactical options.
That brings me to Reddit and RPGNow. Reddit lets you target your advertising by letting you focus on specific subreddits. We advertised only on /r/rpg and had a good return on investment. Probably the best we could expect to repeat. RPGNow was slightly better targeted (people that are currently looking to buy RPGs as opposed to simply discussing them) but they cost more for the same number of impressions. In my case, they had an issue with a site upgrade that caused them to be late for my launch. To make up for it they used my ad to test their new site so it was visible to all traffic for over a day. Once that was done they started the counter for the 2500 impressions I paid for. With 116,500 free impressions, the return on investment was very high!
Free Marketing
We also tried to build traffic using social media accounts. I can't say we had a particular strategy, we just posted about it daily for months leading up to the Kickstarter... it pretty much felt like we were talking to ourselves with how little interaction most of our posts get. Our most engaged with platform was Instagram and I'm at a loss as to how we're supposed to get people to go to our profile and get the link to the Kickstarter!?
| | | | |
| --- | --- | --- | --- |
| Platform | Page Views | Sales | Profit |
| Twitter | 418 | 11 | ~$115 |
| Instagram | 17 | 0 | $0 |
| Youtube | 10 | 0 | $0 |
| Reddit | 123 | 2 | ~$21 |
| Google+ | 65 | 6 | ~$63 |
| Mailing List | 9 | 7 | ~$70 |
Our Instagram has ~10 times the followers and post interactions of all of our other social media platforms. The problem with Instagram is that I could not add links to my posts, so I had to hope that someone would be interested enough to go into my profile, then click the link in my bio.
We very infrequently use Youtube and just posting our Kickstarter video there got almost the same traction as intentionally building an Instagram following did.
For Reddit we made 3 posts. It's important to remember that Reddit is on high alert for people spamming, so we had to make sure our posts were more than just "Hey, I made this thing I think your board may be interested in". On launch day before we went live, we asked /r/rpg for feedback on our Kickstarter. I was genuinely hoping that we would get some feedback since this was pretty close to our target audience and many people on that board buy a lot of RPGs off Kickstarter. If they had feedback to give it would have been very relevant. Of course this also lets people know my game exists, so maybe they will want to read more, maybe they will buy it? We didn't get much traction, only one comment and a handful of upvotes but one of our sales came from here as did most of the Reddit page views. When the campaign was on its last week, we tried Reddit again. We made an AMA about the campaign. This got more comments and less upvotes. It also got very few page views and no sales. We also posted once in /r/dungeonworld, which is about as close to our target audience as you can get. We posted about the first playtest campaign we ran. The narrative was well received, it got the most upvotes, the second best interactions, and the higher value sale. If your going to promote yourself on Reddit you need to know the community and provide something actually interesting to them.

Google+ used to have a thriving Dungeon World community. I joined it in anticipation of this Kickstarter to get a feel for the community and I learned several things there that helped us write the character moves and improve the design of the game. They were very supportive as well. I had several people volunteer to proofread the game and give feedback on the moves. Several people pushed our game on other social media platforms. The loss of Google+ was a real blow for the Dungeon World community and poorly timed for us as it removed such a targeted, curated community for us to utilize as a resource.
Another takeaway we learned: you should set up a mailing list ASAP because your biggest fans are the people who sign up for your spam and will actually read and engage with it. We intentionally made it take more steps to sign up and kept it easy to unsubscribe. If someone is willing to go through the extra work to get on the list and willing to stay on the list you can be pretty sure they will support you. At launch our mailing list had ~20 people. Nearly half of them bought the product. A mailing list like this is a great way of knowing if you are ready to launch your Kickstarter. We figured out that a good determiner for general plausibility is to wait until you have enough people on your mailing list so that if every one of them bought your project, you would hit 30% funding. Never trick people into signing up, don't force them to sign up... These methods are irritating and are likely to alienate or frustrate potential customers, which could also give you false data about how many sales you are likely to be able to make. We learned a lot about this from this GDC conference.

Finally, our most successful free marketing: Twitter! Our Twitter had very little interaction (basically 0) before the Kickstarter. We had 2 things that boosted our Twitter: someone from G+ with a lot more followers posted about our game multiple times (I told you they were supportive) and our primary artist has a lot of followers. She posted about our game a few times leading up to the Kickstarter which helped grow our email list but the most clear way to show you how much of a difference this made is shown below on the 3rd to last day.
She simply re-tweeted her launch day tweet and reminded her followers it was ending soon. This was not just an end of campaign increase since it outpaced the following day. So, if you're working with anyone that has a better social media presence ask them if they are ok with promoting you.
Kickstarter Itself
Kickstarter is where ~20% of our sales came from. One of the most important thing I learned about marketing from Jamey Stegmaier was that you need to make sure your thumbnail stands out to people scrolling the Kickstarter discovery feeds. He also swore by having EU friendly shipping icons visible on your thumbnail (it lets people from the EU know that they will not be wasting their time if they look at your project). We wanted to have a unique thumbnail image that also told you what the project was to attract more potential backers. Somehow we launched at around the same time as another game with 'Wyrd' in the title. Here's a picture of our game in the Explore window with the filter set at 'Show me Games projects on Earth sorted by Magic' near the end of our campaign.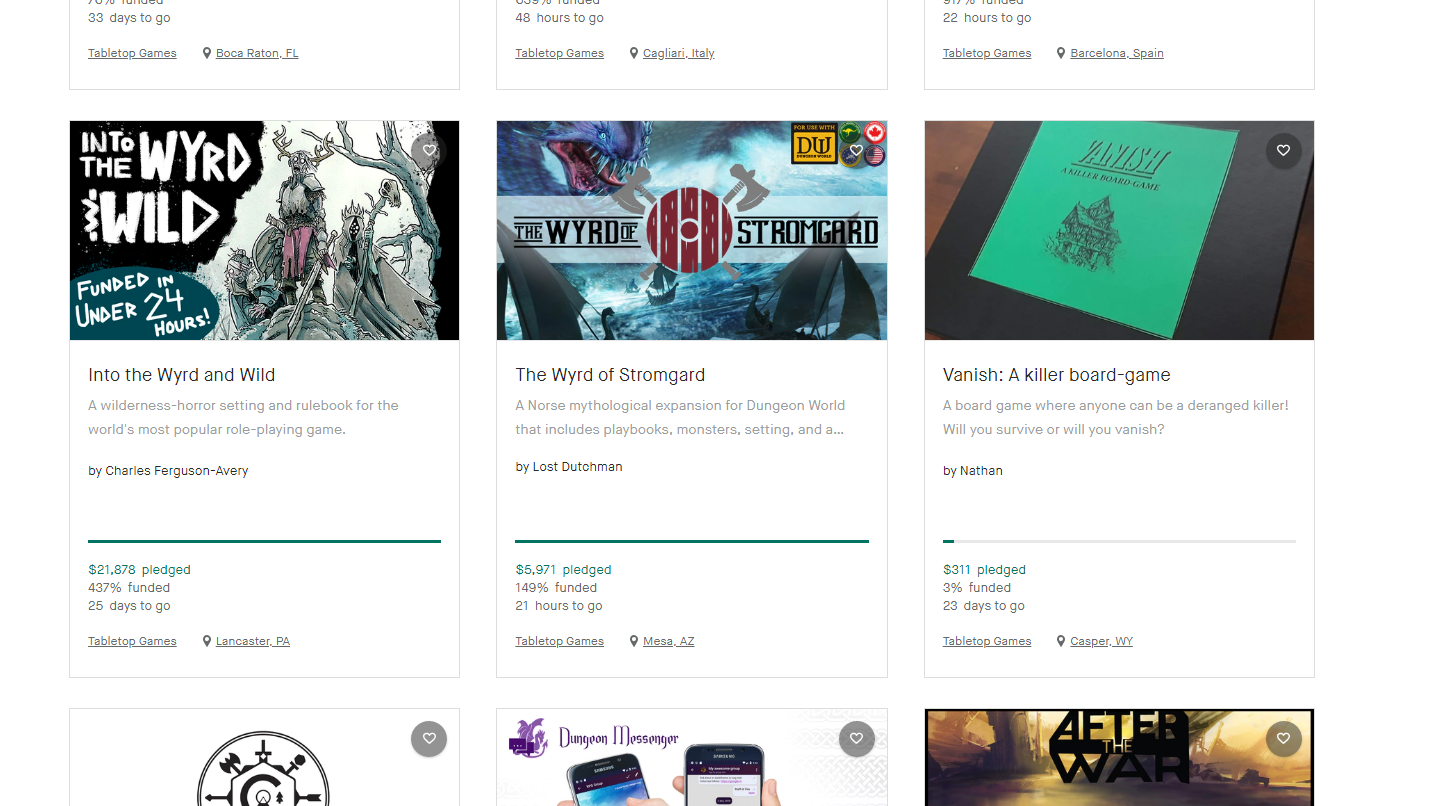 So you can see that our biggest hurdles here were reaching a relevant audience and making every single dollar count. We did find some ways to maximize a relatively low investment into marketing that actually meant something to our platform and I think that as new, small creatives try to break out into crowdfunding they'll need to find solutions similar to what worked for us. While there's a lot of generalized marketing advice on the internet, some of the best in regards to our goals and project came from places much closer to our market circle, so to speak. Reddit, RPG websites, even the crowdfunding platform itself may offer the most worthwhile networks in which to promote your work and also forge supportive contacts and even build fans looking for your next project. Be sure to check out our other postmortem write ups that might offer you some other pertinent advice if you're thinking of making and/or crowdfunding your own TTRPG content- we touched on production and budget as well as a loose run down of the whole design process.
Get The Wyrd of Stromgard
Comments
Log in with itch.io to leave a comment.
Very helpful, thanks for writing this all!
As a content creator and game dev I find this information really useful. Thanks for sharing your experience . Too bad you got scammed in fiverr :/
Great write-up, thanks for sharing.